Nov
16
Sat
Community Cheerleading Camp – November 16, 2019 @ Shippensburg High school
Nov 16 all-day

The Shippensburg School District Cheerleaders have partnered with Level Up Tumbling to host the cheer event of the season. Athletes will have the opportunity to work with some of the most experienced coaches around. Getting hands on training with the best. This camp will focus on all aspects of cheer and help set a new standard for all levels of cheerleading and athlete development. The camp is designed to help athletes and coaches understand essential skills necessary for kids transitioning from recreational cheer to high school and middle school or allstar to college.
Help us unite for a cause while learning what it means to level up in the process.
This event is open to the public and surrounding school districts
Check in time: 8:00 am Event Start: 8:30 am – 3:00 pm
Dec
5
Thu
Remembrance Ornament Making Workshop – December 5, 2019 @ DMTF Center for Grieving Families
Dec 5 @ 6:00 pm – 9:00 pm
Drop in to the DMTF Center for Grieving Families on Thursday, December 5, 2019 from 6-9 pm to decorate a FREE remembrance ornament for a special person or pet who has died. This craft is fun and easy to make. Make one for yourself or to gift to someone-else.
Mar
24
Tue
Diderot String Quartet – March 24, 2020 @ Gettysburg Area High School Auditorium
Mar 24 @ 7:30 pm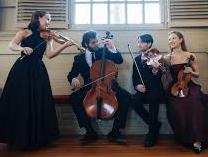 This young quartet's calling card is their use of period instruments: gut strings without synthetic materials, no chin rests, shorter bows, flatter bridges, and standing to play. They have found the thrill of exploring the quartet repertoire on period instruments to be irresistible, providing an equally irresistible listening experience for the audience.