The U.S. Fish & Wildlife Services' 2011 National Survey of Fishing, Hunting and Wildlife-Associated Recreation unveiled that more than 90 million United States residents aged 16 or older participated in some sort of wildlife-related activity that year – the most recent year on record. Wildlife recreationists spend nearly $150 billion per year on their activities. With this in mind, those who have hunters, anglers or outdoorsmen on their holiday shopping lists may find that gifts facilitating these specific pursuits can be the ideal fit this holiday season.
Rather than scouring the mall for hours, a visit to the nearest sports outfitter can yield a bevy of appropriate gift ideas. For some inspiration, consider these gifts for the outdoor enthusiast.
· Binoculars: Scoping out territory and looking for game is often part of the hunt. A set of durable new binoculars can give hunters an edge.
· Heated shoe insoles: Hunting and fishing often require long wait periods – sometimes in chilly weather. Heated shoe insoles and hand warmers can keep outdoorsmen warm.
· GPS/digital watch: Although many smartphones tell time and offer GPS services, lightweight watches may be more convenient than phones. For example, the Garmin Fenex Watch is waterproof and offers such functions as GPS, an altimeter, barometer and a digital compass.
· All-season tent: Camping out is not just a summer activity. A tent that is rated to withstand various temperatures and conditions can be an asset.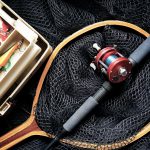 · Waders: Anglers sometimes need to get up close and personal with their prey. A sturdy pair of breathable waders is ideal for those who venture out of the boat or off of the coast.
· Wool socks: They may be a basic item, but hikers, hunters and other sports people can't stock up enough on warm, sweat-wicking wool socks that will keep their feet comfortable and dry on all excursions.
· Folding knife: Knives are ideal for cutting fishing line, twigs for a campfire and much more. A sturdy, quality knife that fits easily in a pocket or backpack is a must-have for hunters, campers and anglers.
· Water-resistant pouch: A day on the boat or near the water requires gear that can get wet without soiling items stored inside. Choose a pouch that can fit a camera, keys, phone, and other necessities.
· Climbing stand: Hunters frequently spend time up in the trees to get a better view of oncoming game. Stationary tree stands may remain for the season, but lightweight offerings fold and can be transported from area to area.