People have been cooking meals over open flames since the discovery of fire. Even today, when there are so many ways to cook a meal, many still insist there's nothing better than the taste of food cooked on the grill.
The Hearth, Patio & Barbecue Association, which tracks industry trends, points out that one-third of consumers plan to use their grill or smoker more often this year. Even though grilling is widely associated with summer, a growing number of people are embracing year-round grilling. HPBA's CEO Jack Goldman has said, "Barbecuing is no longer just a pastime, but an integral part of the North American lifestyle."
Seven in 10 adults in the United States and eight out of 10 in Canada own a grill or smoker. With so many people firing up their grills, it's important to recognize the importance of grilling safety. Each year an average of 8,900 home fires are caused by grilling, and close to half of all injuries involving grills are due to thermal burns, advises the National Fire Protection Association. Here's how to stay safe.
• Only grill outside. Propane and charcoal barbecue grills should only be used outdoors. Grills should be placed well away from the home. Keep grills away from deck railings, eaves, overhangs, and tree branches.
• Keep the grill clean. Thoroughly clean the grill prior to first use, and keep it tidy all year long. Grease or fat buildup can ignite and cause a fire.
• Always attend the grill. Grill distraction-free and keep an eye on the food being cooked. Simply stepping away for a few moments can lead to a fire or accident. • Start fires safely. Charcoal grills and gas grills may be lit using electronic starters that do not require fire. If using starter fluid, only do so on charcoal, and do not add more fluid or other flammable liquids after the fire has ignited.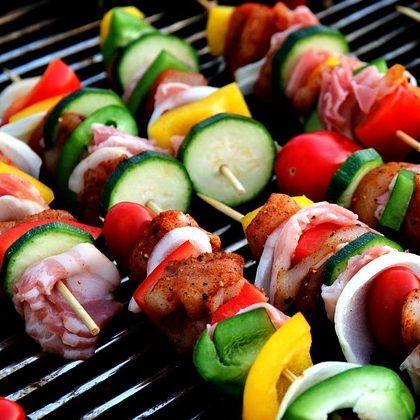 • Check for gas leaks. Whether the gas grill is hooked up to a propane tank or the natural gas supply of a home, ensure that the hoses or tanks are not leaking. Apply a light soap-and-water solution to hoses to see if they bubble from leaking gas.
• Keep baking soda nearby. Baking soda can control grease fires, but it's also helpful to have a fire extinguisher or a bucket of sand on hand for other types of fires.
• Watch children and pets. Keep children and pets at least three feet away from grilling areas.
• Wait for the grill and coals to cool. Practice safety around the grill until all coals are cool and the grill is no longer hot to the touch. Only then should the grill be moved or relocated.
Grilling is a passion that is enjoyed throughout much of the year. Safely cook outdoors by heeding safety guidelines.