When:
October 30, 2021 @ 4:00 pm – 8:00 pm
2021-10-30T16:00:00-04:00
2021-10-30T20:00:00-04:00
Where:
Council for the Arts
103 North Main Street
Chambersburg
PA 17201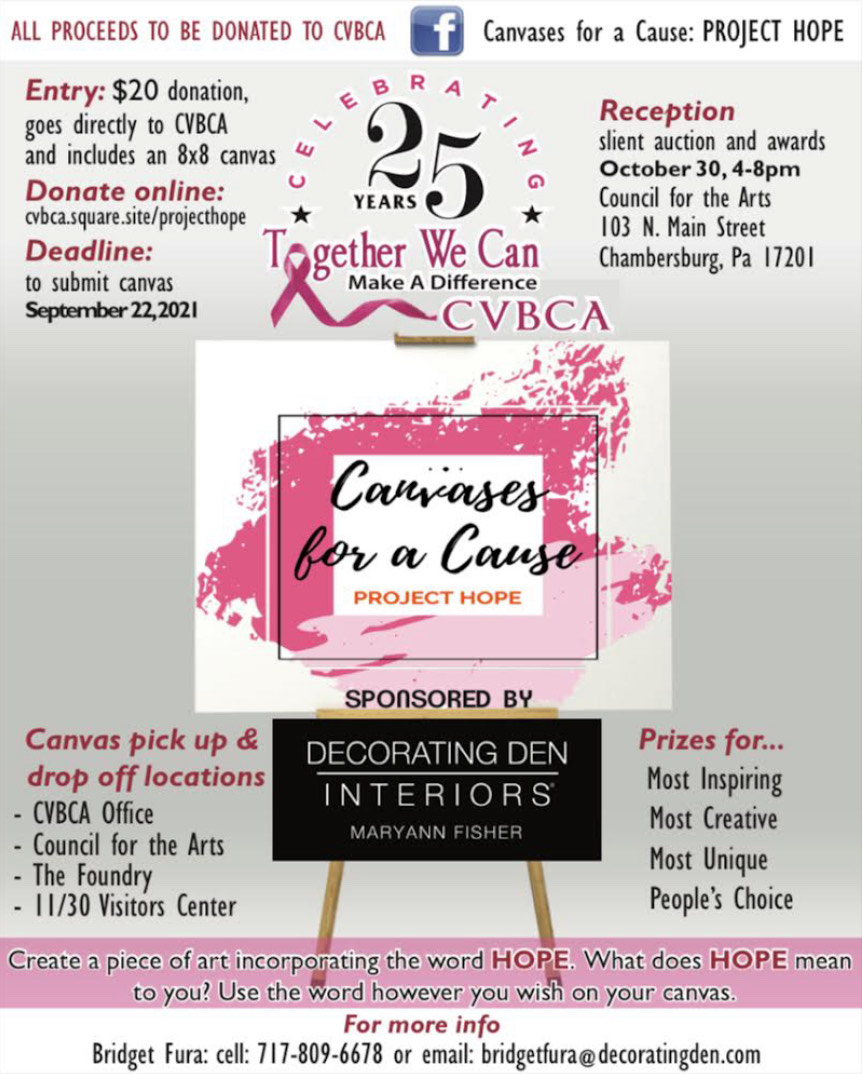 Canvases for a Cause: Project Hope
Create a piece of art incorporating the word HOPE. What does HOPE mean to you? Use the word however you wish on your canvas.
Entry: $20 Non-refundable donation, goes directly to CVBCA and includes an 8×8 canvas. Once you make your online donation, you will receive a confirmation email that will contain Pick up location information so you can make arrangements for pick up.
You can pick up & drop off your canvases at the following locations (DEADLINE: SEPTEMBER 22, 2021)
CVBCA Office: 344 Leedy Way East, Chambersburg, PA 17202, Phone: (717) 263-7191
Council for the Arts: 103 N Main St, Chambersburg, PA 17201, Phone: (717) 264-6883
Franklin County 11/30 Visitor's Center: 15 S Main St, Chambersburg, PA 17201, Phone: (717) 552-2977
The Foundry: 100 S Main St, Chambersburg, PA 17201, Phone: (717) 261-0706
Starting in May: The Garage Studios: 102 S Main St, Chambersburg, PA 17201, Phone: (717) 977-8533