When:
October 21, 2022 @ 7:00 pm – 10:00 pm
2022-10-21T19:00:00-04:00
2022-10-21T22:00:00-04:00
Where:
The Franklin County Historical Society - Old Jail
175 East King Street
Chambersburg
PA 17201

Cost:
Adults: $12 Children 12 & Under: $7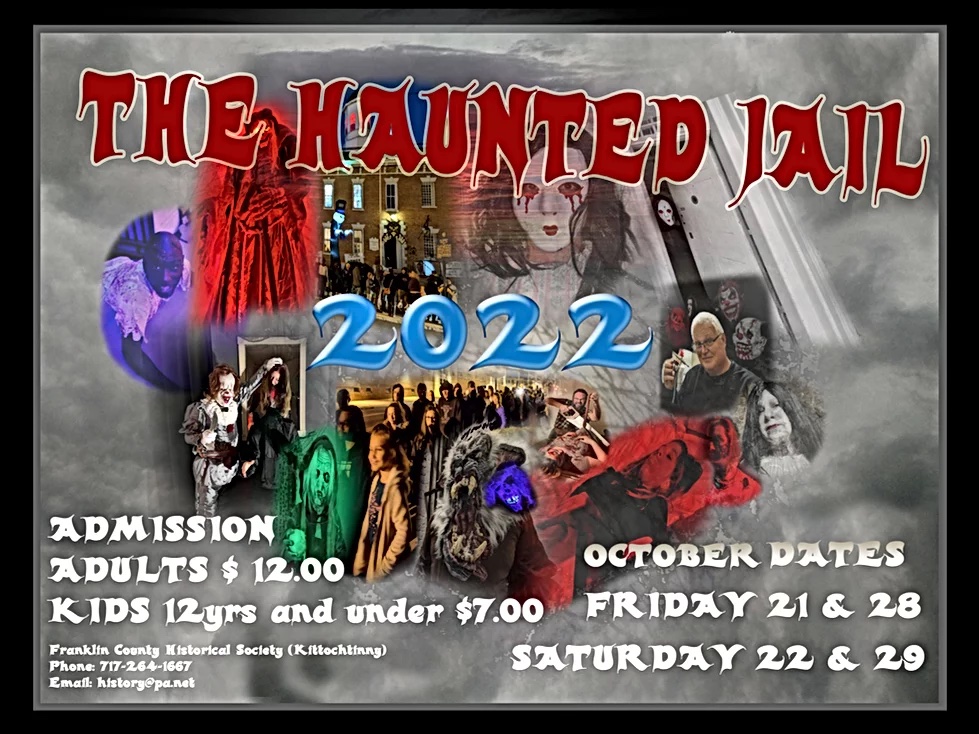 FOR IMMEDIATE RELEASE
Franklin County Historical Society Hosts Halloween at the Haunted Jail 2022
Chambersburg, PA – September 28, 2022
The Franklin County Historical Society will host its annual haunted jail fundraiser on October 21 & 22 and October 28 & 29 from 7-10:00pm. The theme this year is "The Night of the Haunted Dead".
Guests will encounter ghosts, goblins, and other haunts as they traverse four floors of the jail, including the three story cellblock and dungeon areas. The event has been expanded from last year, when over 2,000 people attended the event.
The cost is $12 for adults and $7 for children 12 and under, payable at the door or online at franklinhistorical.org. Cash and credit are accepted.
The event benefits the nonprofit Society.
Call 717-264-1667 for information or visit franklinhistorical.org.
Built in 1818, The Old Jail is the home of the Franklin County Historical Society, founded in 1898. Each year the Society serves thousands through its tours, genealogy library, events, and educational presentations.
Contact:
Neil Rensch
nbhrensch@comcast.net
717-264-1667