Who doesn't like to save some dough? With average costs of living on the rise, most Americans enjoy saving a little cash – any chance they get! One classic way to save is coupon clipping – While savings can vary per coupon or store, this simple money-saver can really add up!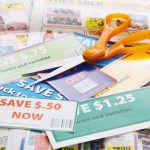 Top ways to $ave with coupons:
• Get organized: Store coupons in small file folder or a simple zip-lock bag
• Keep coupons visible: Don't tuck them away to gather dust! Hang on the fridge or next to your grocery list
• Buy in bulk for must-have items: Toilet paper, paper towels, spices, juice & coffee
• Look for what's in season: Fresh produce offers an instant in-season discount due to bulk availability
• Support local businesses: Large manufacturers aren't the only ones giving deals – Local businesses often run special promotions that can offer big savings
-> Dont forget to check out the Coupons online at the Franklin Shopper for featured weekly deals!