If you're planning on preserving your produce this fall harvest, it's important to plan ahead and have all of the tools you'll need. Being prepared can help save time, ease stress and make clean up a breeze! Preserving local fruits and veggies is a fun way to support your local community and savor the farm-fresh flavors all year long.
Must-haves for fall canning:
• Large soup pot or pressure canner
• Tongs
• Jars and lids
• Funnel, for easy fill-up of jars (mess-free!)
-> Visit a local store like Mountain View Farm & Garden to get your fall canning supplies!
Don't forget, you'll also need:
• Sugar
• Pectin
• Lemon Juice
• Butter (Add 1 TB and melt before canning jam or jelly to reduce foam!)
-> Stock up on apples & fall produce at Shatzer's Fruit Market!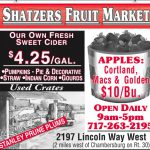 Recipe Ideas for Fall Canning
Plan ahead to stock your shelves or whip up some tasty holiday treats!
• Apple Butter
• Peach Pie Filling
• Sliced Pears
• Classic Tomato Marinara Sauce
• Garden Salsa

What's your favorite thing to can? Leave your recipe idea in the Comments!